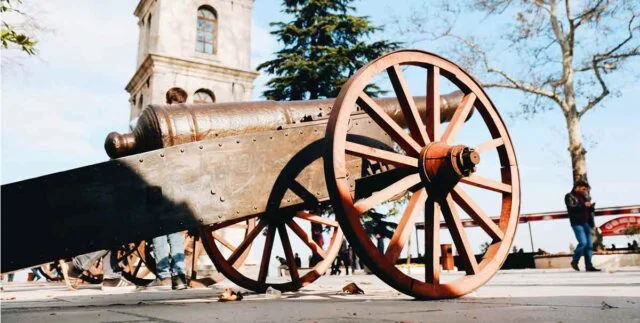 A metal Cannon is a little known Feng Shui cure and is not generally the sort of cure you would typically see on a Feng Shui website. However, this is one of the most powerful Feng Shui countermeasures to use when protecting yourself against negative energy or buildings/people that are overlooking your home or office and is traditionally considered even more potent than a Ba Gua mirror.
Like a ba gua mirror, a brass cannon is a tremendously powerful countermeasure against poison arrows and killing energy (sha chi). However, unlike a ba gua mirror which is used to deflect or absorb any poison arrows from your surroundings, the cannon exerts a controlling defensive force itself to dissolve the poison arrows coming towards your property and a cure that I have personally used for many years although care must be taken when used as they are very potent.
Many Feng Shui masters in Hong Kong say the power exerted by the cannon overrides a flat/concave or convex ba gua mirror by far, and I agree with this. This is why you will see many objects mounted on top of buildings that resemble a cannon, and the most famous is on top of the HSBC building in Hong Kong, as shown below, and both cannons coincidently point at a competing bank.
Look at the buildings in the image below of the same building at a different angle.  The building on the left is the Bank of China which was a disaster from the start. Classified a failure with its negative energy 'knife-edge' pointing directly at the HSBC Bank (on the right).
The building also has negative 'X' shapes running up the sides.  The construction was anticipated to cause economic stress.  This stress would affect not only the HSBC Bank but also the surrounding buildings and their businesses. Along with the disastrous structure, the original plan was to open on the auspicious date of 8th August 1988.  The number 8 translates to 'fortune' and is a favourable number in Feng Shui. However, there was a delay in completion, and the building eventually opened on the inauspicious date of 15th June 1990.
The predicted slump in the economy was realised, so the HSBC Bank, on the right, took action. They erected a cannon to serve as the 'cure' right on the top of the building.  The cannon was aimed directly at the Bank of China to deflect any negative Qi.
The building in the middle is the Cheung Kong Centre. This building was constructed to balance out the energy between the two rivalling banks. The skyscraper was built to allow good Qi to flow unhindered from the mountains and around the buildings.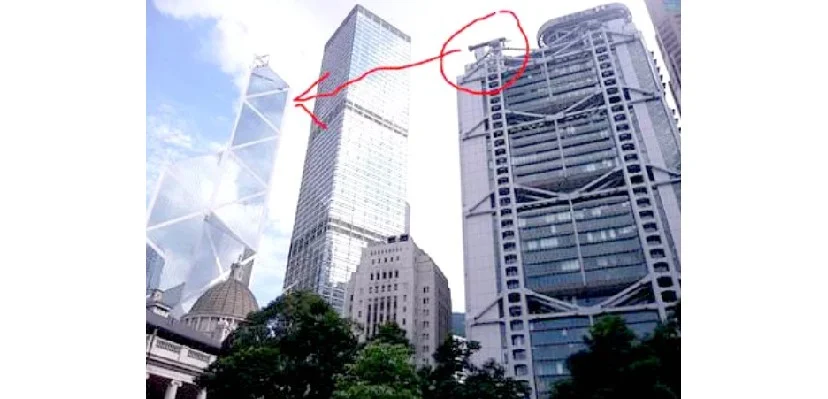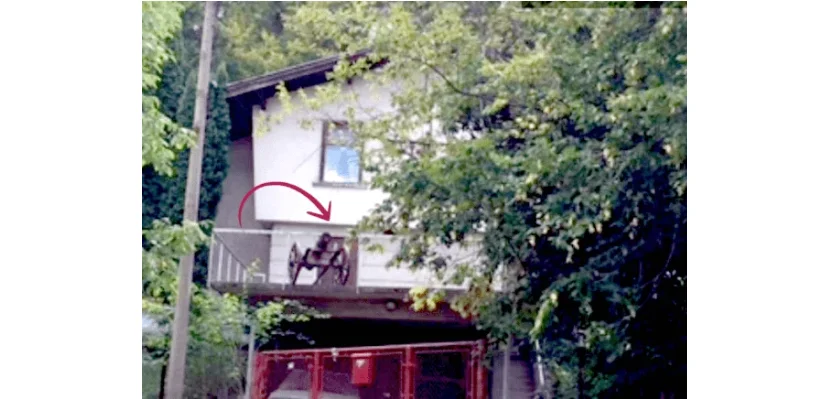 A good Feng Shui master will always recommend a cannon to be made of good quality brass, copper or steel and quite heavy in weight, and we spent many years sourcing the right ones, and in my opinion, brass is by far the best you can get and whilst I am biased the ones we sell are the best you can get.
You should only use this commanding cure only in situations where you are under severe threat and do not have any choice, such as being unable to hang a less powerful ba gua mirror on the external surface of your wall.
They are favoured as a perfect cure in apartments or high rise offices when countering external sha chi and are impossible to place on the outside. The entire structure of the cannon must be made from strong heavy brass or similar material and can also be placed outside.
The cannon is a powerful countermeasure of external sha chi in a problematic situation, especially where your home or office is in a tall building where you cannot hang a ba gua outside the wall of the building. It is also an effective remedy against any strong ba gua mirror overlooking your house from the opposite neighbour.
When should you use a brass cannon or ba gua mirror as a Feng Shui countermeasure?
We always say you should Feng Shui responsibly as it is extremely powerful if you get it right but far more effective if you get it wrong, and we are the first to say any problems you may have with a neighbour is better to talk and sort things out although I fully appreciate that this is easier said than done and I have to admit to having a brass cannon in my home located in the northwest which is the patriarch location (me), and this, of course, can affect the eldest male and as I have a bullfight sha located here I must use very strong countermeasures and this has worked perfectly for me in the last twenty odd years.
Here are some examples below of when you should use one, and you simply point the cannon at the offending object:
A high-rise structure higher than you blocking your facing view is simply harmful to your Feng Shui.
Tree branches or a large tree close to your building,
Corner of a neighbouring building that is pointed at yours
Telegraph/lamp pole that is close to your building
Mobile phone masts
Television antennas
Satellite transmitters
Electric transformers
Jagged mountains
T-junctions
Construction crane
Hospital or prison
Government buildings, although only ones that you feel have a negative influence.
Elevated bridges,
Elevated roads,
Airport runways,
Train tracks
All the above situations, if not cured, could result in poor business, loss of wealth, bankruptcy, magnified obstacles, accidents, sickness, depression, psychological effects, or even death in a household or an office.
In most cases of using Feng Shui countermeasures, we always recommend starting with a Ba Gua (pa kua) mirror as this is safer to use.